Robert January's New Solo Show, "Sacred Geometry, Sacred Color: The Human Figure," Opens January 7 in Westport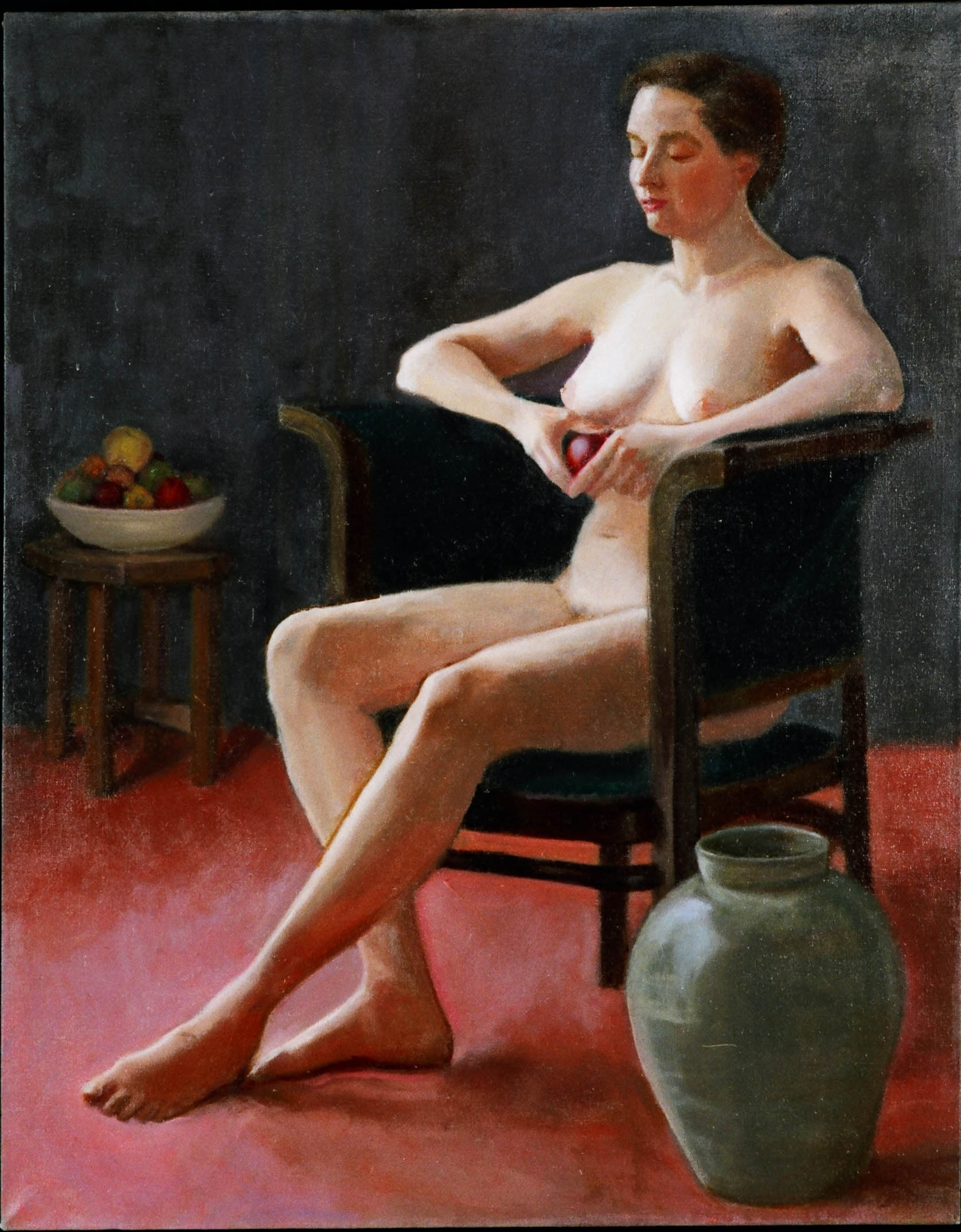 Easton, CT, 12/21/04— Robert January's new show, "Sacred Geometry, Sacred Color: The Human Figure," opens January 7 at the Westport Arts Center.
He was one of six artists out of "over a hundred applicants" from around the northeast juried into Westport's Gallery Solos by juror Robin Zella, director of the Housatonic Museum.
January's exhibit will consist of a series of fifteen drawings, pastels and paintings (oil on canvas) that focus on the beauty, action and drama of the human figure.
All of his work is from the living model in natural light. His knowledge of the human body is informed by sports in which he has been active all his life coupled with concentrated study of the live nude model, anatomy studies at Yale Medical School and working with the best realist painters alive.
"Capturing the human figure," January says, "means capturing its music, its harmony, melody and rhythms, in a word, its dynamic proportions. The ancient Egyptian, Greek and Renaissance artists liked to call this Sacred Geometry. That can be achieved monochromatically in a painterly drawing. To achieve it fully, however, requires sacred color as well. By sacred color, I mean color in the exact proportions that the subject reveals. The geometry and color are inextricably interlinked, revealing each other. Hence, I use the two terms co-jointly in the title, Sacred Geometry, Sacred Color: The Human Figure."
Other artists exhibiting include Victoria & Mark Catuneo (treated as one artist), Seth Lewis, Lee Anne Miller, Sarah Petruziell and Gloria Santoyo Ruenitz. The opening reception is January 7, 6:30-8:30 pm. The public is invited. The show runs through January 28.
January has been drawing and sculpting only since 1999. He studied with a variety of fine artists at Silvermine School of Art, Lyme Academy and National Academy of Design School 1999-2003. In this short amount of time he has been juried into numerous local, national and international shows with noted jurors while winning prizes for drawing and painting, including the celebrated Salon d'Automne in 2004, Paris, France, a show that launched the careers of Cezanne, Matisse and Picasso.
He was also juried into Art of New England 2004, Lyme Art Association, Old Lyme, Ct.; Art on Paper 2004, Maryland Federation of Art, Annapolis, MD; Audubon Artists Annual Juried Show 2003, New York, NY; The Portrait (2003), John Slade Ely House, Brush & Palette Club, New Haven, Ct; National Academy of Design (NAD) Juried School Annual Show 2003, National Academy of Design Museum, Fifth Avenue, New York, NY; and its Lincoln Center Show 2004, New York, NY.
His prior career was in journalism and the international energy business.
"In the early 1970s I realized the implicit assumptions that the international energy business were built on were flawed and designed a strategy to make that industry more efficient and in the process built a successful energy consulting and brokerage company," January says.
"I'm attempting something like that in the field of art now."
January grew up in Wichita Falls, Texas, where he was active in sports. After graduating with a BA in philosophy from the University of Texas in 1970, he worked as a journalist in the Middle East specializing in energy and Arab affairs. He started an international oil brokerage company in 1983.
In 1987, he was invited by the Algerian Government, one of his clients, to visit the ancient frescos of Tassali N'Agger, in the deepest part of the Sahara desert, a life changing experience that left him with an urge to follow in those prehistoric artists' footsteps.
A special panel discussion with the artists is also planned for January 12 at 7:30 pm, admission free, Westport Arts Center, 51 Riverside Avenue, Westport , Ct., www.westportartscenter.org or call 203-222-7070.